Finally. About time.
I've been meaning to update this forever but just haven't gotten around to it.
Me and Sarah were going to have a blogging contest to see if we could blog at least twice a week. Yeah, didn't happen.
Hm...where to start.
Andy. Andy is a great place to start.
We're in the double digits now. Only 95 more days to go. The last 9 months have gone by super fast. He'll be here before I know it! He sent me this picture last week and I just loved it. That watermelon looks so yummy, right?
Okay, this past weekend was Peach Days. It was filled with sunshine, walking, peach cobbler, pulled pork sandwiches, kettlecorn, snowcones, a 10k, and Kelli. I took a few pictures of the festivities with my holga so once I get the film developed I'll share the pictures.
My dad ran the 10k too. This 10k was a first for both of us. I wanted to get under 45 minutes. My time was 45:37. Crap, huh? My dad's goal was to finish in under an hour. He did it in 58 minutes. Sweet, huh!?
Kelli and I also went to a show last night at Kilby Court. We had so much fun. We always have so much fun. Anyway, it was cutest little place. It made me happy.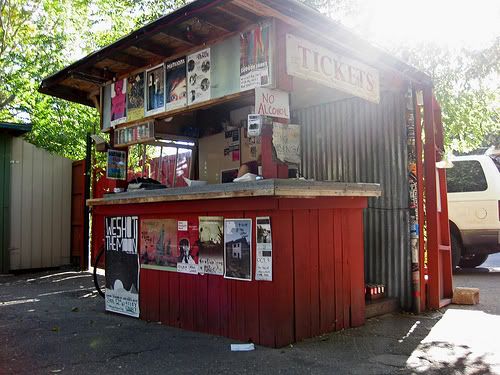 I had ultrasound school on Wednesday, Thursday, and Friday. We scanned each other abdomens in lab on Friday. So much fun! But its tough. And then I took 4 tests Friday night. Not the greatest way to spend a night. And a Friday night at that. I'm still buried in homework so if you don't hear from me for awhile, thats why.