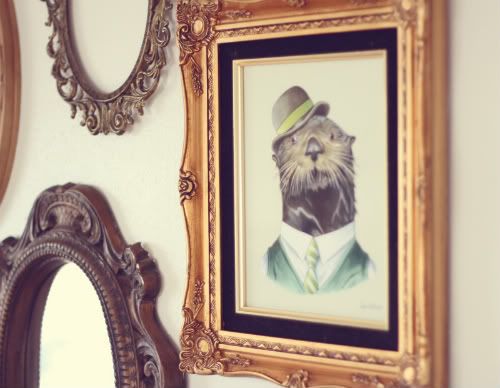 A few weeks ago Andy and I finally decided we'd stay put for awhile. We've been looking for a different place to live for months now. We looked into buying a house but decided to save up so we'd have a better down payment. We've looked at other apartments and we have found some that we really really like. The only problem is that the monthly payment is equal to a house payment and I refuse to throw that money away every month. While our apartment is not the cutest or newest, it works. And nothing else really compares in size and price. Anyway, since the day we decided to stay, we've gotten the internet, cable, and some furniture. Its starting to feel more like home and I'm actually starting to enjoy spending time here. I've found the more I decorate, the more I want to be here. Imagine that.
Andy helped me with my frame collage. I love it. The animal prints were my birthday gift from Andy. I've wanted
these prints
FOREVER. It was the greatest birthday present ever. I'm looking forward to more decorating!