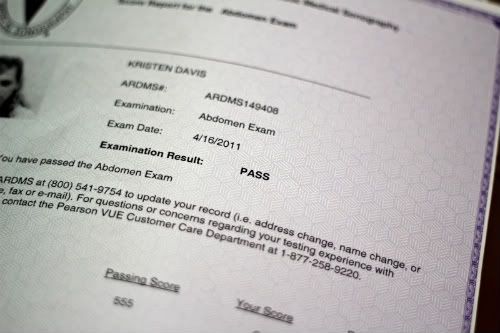 Its been quiet around here for a good reason. I've had my abdomen boards to take.
In order to become a registered diagnostic medical sonographer you have to take a physics board and one other specialty board. After passing my physics board back in September I decided I'd tackle the abdomen. I waited until school was over before I started studying the abdomen material. After studying for weeks about cavernous hemangiomas, cirrhosis, portal hypertension, renal cell carcinoma, etc., I took the exam...and I passed!
Poor Andy had to listen to random outbursts of "I passed my test!" throughout the day. Its so liberating. I have a list a mile long of books I want to read. I have a stack of quilts waiting to be finished. I have yarn that is waiting to be made into a granny square blanket. And pictures from our whole first year of marriage that are waiting to be scrapbooked. I haven't felt this free for a long, long time.