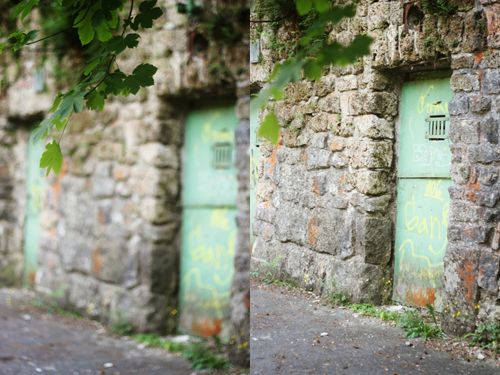 1//2// we left prague and landed in trencin, slovakia, which was the first city that andy served in. it was small and quiet compared to prague.
3//4// we stopped for capovana kofola, which is basically their "native" soda. i was not a huge fan, but the boys stopped for kofola every chance they got. then we ate zmrzlina (ice cream) while we watched a wedding. i was a fan of zmrzlina. in fact, i think that is all i ate for the first three days in europe. what can i say? being sixteen weeks pregnant i couldn't even find food in the united states that i could stomach. lets just say i REALLY struggled with food over there. and i really feel bad that everyone had to listen to me whine at every meal. i basically lived off of ice cream and french fries during the entire trip.
5//6// we went to the grove where
president uchtdorf dedicated slovakia for missionary work
in 2006.
7// we stopped at the vaclavovci's house. he is the branch president for our church in the city of trencin and has helped with the process of translating the book of mormon into slovak.
president vaclav's mother, alzbeta (elizabeth), loved andy. she is the cute little lady standing to the left of him in the picture. it was so incredible to see the excitement on her face when she opened the door and saw him standing there. olga, the neighbor lady standing front and center in the picture, spoke really good english and helped andy maintain his sanity at the beginning of his mission when he couldn't understand a lick of slovak.
we visited with them for awhile and then they took us to tour the church building before we headed off to zilina.
8//9//10//11//12// on our way to zilina we stopped in trencianske teplice. it is a tiny little town where a lady named sasha is from. i don't know if i've ever mentioned sasha on the blog before, but andy met her on the plane ride from the united states to slovakia when he first left on his mission. she lives in the united states now but was visiting her mom at the time. it was quite the coincidence when andy was sent straight to trencin after getting to slovakia, which is just minutes outside of her hometown. anyway, we stopped here for dinner (another failed dinner attempt for me) and walked around the park before hitting the road again and making our way to zilina.
13//14//15//16// visnova is a small town outside of zilina. this is where a girl named katka lives. both taylor and krace taught her about our church during their mission and have maintained a friendship with her. she speaks really good english, which was always a relief to me! its nice to be able to understand what was going on. we spent the afternoon with her and her family. visnova is a beautiful, quaint village tucked up by the mountains and we took an afternoon stroll with her family to buy some sheep (or maybe goat?) cheese from the neighbor. andy loved it, if you couldn't tell from the picture. And then of course we stopped for kofola on the way back.
Next up: Auschwitz