I realize that this occurred one month ago to the day. But right now I'm pretty much one month behind on everything in my life. I'm finishing one month's worth of laundry right now. And tomorrow I'm planning on getting rid of one month's worth of dust that has built up on the furniture in my room. Gross, right? Anyway...
So Andy's flight was scheduled to come in at 10:36pm on December 17th. It was a Thursday night. I figured I'd just see him Friday after he'd been released, seen his family, etc. But that all changed Monday night when Shelley (his mom) called and asked if I'd like to go with her and the fam to the airport. Honestly, I wasn't sure if I really wanted to go (although now I am very glad I went). As much as I wanted to see him again, I wasn't ready for him to come home.
Him coming home meant change. Him coming home meant growing up. Him coming home meant I'd have to give and take; I'd have to compromise again. I had become very selfish in the past year. I did what I wanted, when I wanted. Him coming home meant that I couldn't be like that anymore.
Also, I had changed a lot over the course of the year. At least I felt like I had. And I knew that he had changed too.
And I think I was scared.
What if we didn't like each other anymore? What if we didn't get along? What if we had both changed so much we didn't even know each other anymore? What would I do then?
Well ready or not, Thursday night came. Shelley picked me up at 9pm and we headed to the airport. I can honestly say I don't think I have been so sick in my entire life. And it only got worse as the clock moved closer to 10:36.
He came.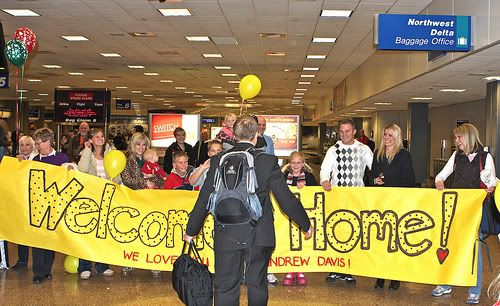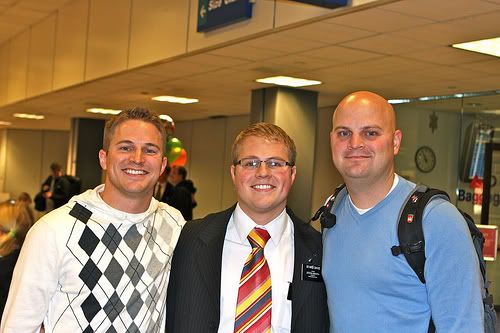 And it was awkward. Super awkward.
But it was exciting. It was new.
And it has turned out to be better than I could have ever imagined.
photo credit: Clark Davis
Thanks! I was way too nervous to try holding a camera all night!